The Perfect Pompadour Hairstyle for Every Face Shape
The pompadour hairstyle is a bold, rebellious classic that continues to inspire modern men's hairstyles. This gravity-defying haircut swept hair up and back for an eye-catching silhouette that oozed attitude. While historically worn by rockstars and rebels, pompadour hairstyles remain one of the coolest men's haircuts around.
But how do you style a pompadour? And what is the best pompadour hairstyle for your face shape? This guide will cover everything you need to know to get and style the perfect pompadour haircut.
What is a Pompadour Hairstyle?
A pompadour hairstyle is recognizable for its dramatic, voluminous sweep of hair lifted up and back from the forehead. It creates a vintage wave that crests at the front of the head and tapers at the back and sides.
This classic men's hairstyle is named after Madame de Pompadour, a noblewoman and mistress to King Louis XV of France in the 1700s. She wore her hair swept up from her face in a similar bouffant style, considered daring at the time.
The pompadour exploded in popularity in the 1950s as a hairstyle for rebellious greasers, rockabillies, and rock 'n roll artists. Stars like Elvis Presley and James Dean made it an iconic symbol of cool nonconformity.
Over the decades, variations of the pompadour have evolved from a highly structured retro style to more relaxed modern interpretations. But it remains one of the most stylish and versatile men's hairstyles, suiting hair of any length or texture.
How to Style a Pompadour Hairstyle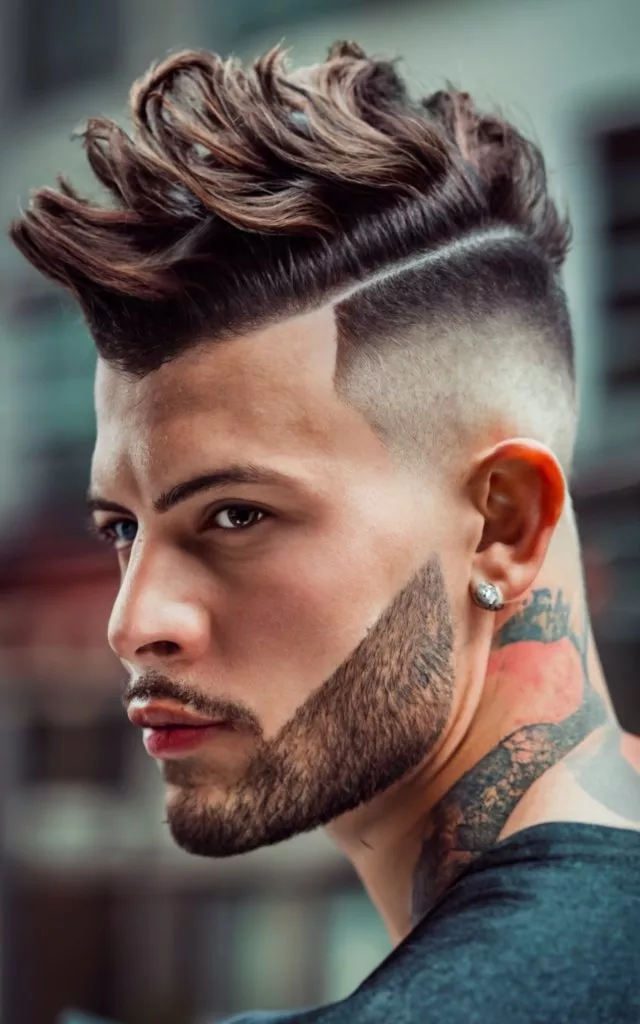 There are a few key elements that create the pompadour's signature silhouette:
Volume and height swept upwards and backwards from the hairline
Short tapered or faded sides and back
Smooth top, styled into a wave
Forehead exposed with front hair lifted up
The most important aspect is creating lift at the roots during blowdrying. Using a round brush, direct hair up and back while blowdrying for maximum height and volume.
Apply a styling product like pomade, wax, or cream for hold. Then comb hair upwards and backwards from the front. The top can be styled sleek or textured based on preference.
For maximum lift, ask your barber for layers cut into the top and crown. This allows more volume to be created during styling.
Fade or taper the back and sides close for a sharp disconnected finish. This contrasts with the length and volume on top.
How to Choose the Best Pompadour for Your Face Shape
Choosing the most flattering pompadour hairstyle is all about considering your face shape. Here are the best pompadour styles for different faces:
Round Face Pompadour
A round face benefits from the slimming effect of a pompadour's vertical height. Create exaggerated lift and volume at the crown to add the illusion of length. Sweeping bangs sideways can also elongate a round face.
Square Face Pompadour
The pompadour's height helps soften the strong jawline and angles of a square face. Reduce volume slightly at the sides for a less boxy look. Forward fringes or bangs complement square faces nicely.
Oval Face Pompadour
Lucky oval faces can pull off any pompadour variation. Feel free to experiment with extra height, texture, and disconnection. This versatile face shape suits sleek or relaxed pomps equally well.
Heart Face Pompadour
A pompadour's vertical volume balances out a heart-shaped face's wide forehead. Ask for textured layers and light face-framing fringe to add width and symmetry.
Triangular Face Pompadour
Lifting the hair draws focus upwards to minimize a triangular face's wide jawline. Prevent a bottom-heavy look with disconnected sides and fringe bangs to narrow the forehead.
Diamond Face Pompadour
Add width and balance to a narrow diamond face with a pompadour's lifted volume. Create the illusion of a wider forehead, and open up the jawline with a side fringe.
Pompadour Hairstyle Variations
While the classic pompadour has a clean retro vibe, modern variations open up more styling possibilities:
Textured Pompadour: Skip the slick back for a matte textured finish full of natural depth and movement. Use sea salt spray and mess it up.
Curly Pompadour: Embrace natural curls and texture on top for volume. Tight curls create height without having to backcomb.
Side Parted Pompadour: Part hair to one side for an asymmetric look. Comb everything across rather than straight back.
Quiff Pompadour: Forward combed fringe falls across the forehead for a modern quiff hybrid. Effortlessly cool.
Undercut Pompadour: High contrast levels up this look. Pair your pompadour with shaved sides or a disconnected undercut.
Short Pompadour: Keep hair short on top, long enough to sweep up. It's all about lift, not length.
Fade Pompadour: A temple or high fade adds clean lines, blending your base neatly into the sides.
Slick Back Pompadour: Go for glossy, shiny perfection with a heavily pomaded slick back pompadour à la Elvis.
How to Maintain Your Pompadour
Follow these tips for pompadour styling success:
Apply product to clean, and dry hair for maximum lift and hold. Volumizing mousse boosts lift at the roots.
Aim the blow dryer up and back while round brushing for lift and shape. Curving the ends under prevents floppiness.
Get a trim every 4 weeks to retain the shape. Clipper overcomb the sides and back close to the head.
Change up your styling products. Waxes and clays add pliable texture, while pomades slick it back.
Always comb it all back – pompadours need 360 degrees of volume at the crown to stay standing.
Refresh in between washes with a dry shampoo. This absorbs oil and adds grip at the roots.
History of the Pompadour Haircut
The pompadour hairstyle has an extensive history spanning centuries and continents. Here are some of the key moments that shaped this iconic haircut:
1750s: Madame de Pompadour, mistress of King Louis XV, sweeps her hair up from her face in a pouffe style.
1920s: Women adopt curled fringes and pinned-up hair to complement low-cut flapper dresses.
1940s: Zoot suiters influenced the first men's pompadour, worn long at the front with short sides.
1950s: Greasers and rockabilly subcultures make the pompadour popular among men once again.
1960s: British rockers like The Beatles rock slightly longer pompadours with mop top fringes.
1970s: Disco brings slicked pompadours, popularized by John Travolta in Grease.
1980s: New wave bands wear messy punk-inspired pompadours.
1990s: The pompadour fades from popularity as short textured hair reigns supreme.
2000s: Rockabilly revivals and shows like Grease bring pompadours back yet again.
2010s: Undercut and fade variations lead to renewed popularity for pompadours. They remain popular today.
Why Choose a Pompadour?
Beyond being a seriously stylish statement, what makes the pompadour an enduring men's hairstyle?
Timeless classic: The pompadour continuously comes back in style, reinvented decade after decade. It has true staying power.
Versatility: Pompadours work with straight, wavy, or curly hair. Style it smooth, messy, or textured.
Confidence: A pompadour projects the wearer's boldness and self-assurance. It's an alpha move.
Low maintenance: Once styled, the pompadour structure holds all day. Re-style with a quick comb and some water.
Professionalism: Pompadours straddle the line between polished and edgy. It's right at home in the office or a music venue.
Transformative: Adding height completely changes the proportions of your face and skull shape.
Masculinity: The exaggerated lift exudes a rugged manly charm. But it carries a hint of rockstar edge too.
How to Get a Pompadour Haircut
Ready to take the plunge? Here are step-by-step tips for getting a pompadour haircut from your barber:
Pick a Style: Browse pompadour examples to decide on your desired length, volume, and styling. Show photos to your barber so you're on the same page.
Start Longer: Don't chop it all off at once! Begin longer on top (3-5 inches) leaving room to adjust and taper. Shorten if needed after styling.
Layer the Top: Ask for layered and texturized sections cut into the top to encourage lift and volume while styling.
Taper the Sides: Go for a sharp disconnected taper or fade on the back and sides. A high skin fade is very modern.
Add Parts and Details: Consider a side part or shaved part to divide your pompadour. Side fringe can flatter oval and heart-shaped faces.
Take Your Time: Styling a great pompadour often requires some practice. Don't be deterred if it takes a few tries to master the lift and shape.
Book Maintenance Cuts: Schedule cuts every 4-6 weeks to keep your sides and length crisp. Regular trims prevent the dreaded mullet effect.
The pompadour is back and better than ever. With so many modern variations to try, it's the perfect time to channel your inner rockstar. This guide will help you style the ideal pompadour haircut for your face shape and hair type. Show off some serious pomp attitude.
FAQ
Q: What is a pompadour hairstyle?
A: A pompadour hairstyle is a classic men's hairstyle characterized by the hair being swept upwards from the face and worn high over the forehead.
Q: What face shape is best for a pompadour hairstyle?
A: The best face shape for a pompadour hairstyle is one with strong, defined features. Oval and oblong face shapes are particularly well-suited for this style.
Q: Can I have a pompadour hairstyle if I have curly hair?
A: Yes, you can have a pompadour hairstyle even if you have curly hair. However, it may require some additional styling techniques and products to achieve the desired look.
Q: Are pompadour hairstyles suitable for all hair lengths?
A: Pompadour hairstyles can be adapted to different hair lengths. While shorter hair lengths are often associated with classic pompadour styles, longer hair can be styled into a modern pompadour as well.
Q: What is a disconnected pompadour?
A: A disconnected pompadour is a variation of the pompadour hairstyle where the sides and back of the head are shaved or cut very short, creating a noticeable contrast with the longer hair on top.
Q: How do I determine the shape of my face?
A: To determine the shape of your face, you can use a tape measure to measure the width of your forehead, cheekbones, and jawline. You can also trace the outline of your face on a mirror using a lipstick or washable marker and then analyze the shape.
Q: Can I wear a pompadour if I have a round face shape?
A: Yes, you can wear a pompadour if you have a round face shape. However, it is generally recommended to add more height and volume to the top of the hairstyle to balance out the roundness of the face.
Q: What hair products can I use to style a pompadour?
A: To style a pompadour, you can use various hair products such as pomade, wax, or gel. These products will help to create hold, volume, and texture in the hair.
Q: Are there any variations of the pompadour hairstyle?
A: Yes, there are several variations of the pompadour hairstyle, including the classic pomp, modern pompadour, relaxed pompadour, and disconnected pompadour.
Q: Can I wear a pompadour if I have straight hair?
A: Yes, you can wear a pompadour if you have straight hair. Straight hair is actually well-suited for achieving the sleek and polished look often associated with the pompadour style.
In Conclusion
The pompadour hairstyle has cemented itself as one of the most iconic men's hairstyles of all time. For decades, this classic haircut has been worn by men wanting to add a touch of timeless style and swagger to their look.
From its rise in the 1950s among greasers and rockers to its modern variations worn today, the pompadour exemplifies what a great classic hairstyle is all about. It is instantly recognizable for its dramatic shape, volume, and height that sweeps hair up and back. This allows it to be restyled and reinvented across generations while still retaining its signature bold spirit.
The pompadour is also one of the most versatile men's hairstyles when it comes to flattering different face shapes and hair types. By making small styling adjustments and opting for the most complementary variations, the pompadour can enhance oval, round, square, and other facial structures.
Whether you prefer a retro pompadour with glossy perfection or a messy textured modern style, this cut undoubtedly makes a statement. It projects an air of bold, rugged confidence that never goes out of fashion. That timeless cool factor is what lands the pompadour among the best men's hairstyles again and again.
So don't be afraid to talk to your barber about getting a pompadour haircut for your next style move. With all the different ways to cut and style it, you can easily find a pompadour look that suits you perfectly. This classic haircut continues to inspire generations of stylish gents.