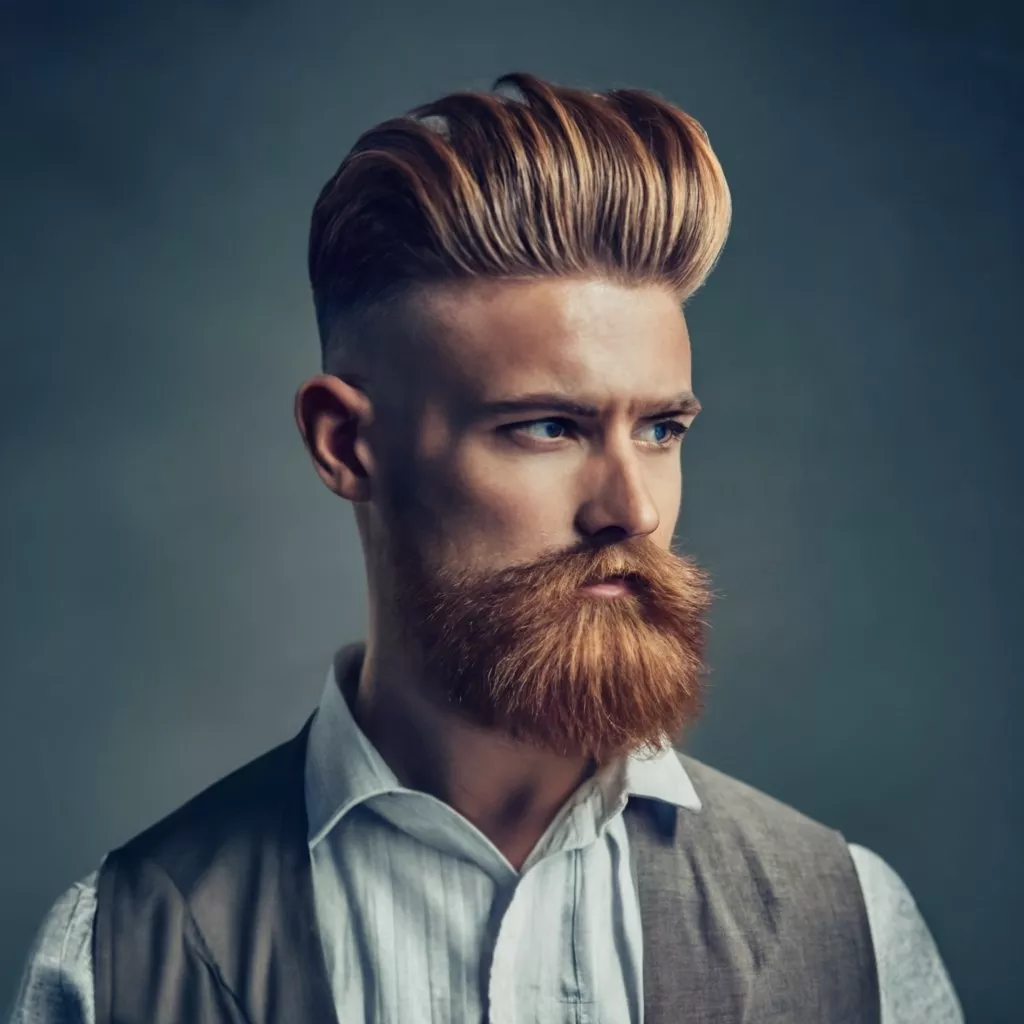 How to Style Thin Hair for Men
When it comes to the topic of thin hair versus fine hair, confusion reigns supreme. But hey, don't worry! The first step in choosing the best hairstyles for thin hair lies in understanding the difference. Thin hair refers to the number of strands on your head. Basically, the fewer hair follicles you have, the thinner your hair is. On the other hand, fine hair is all about the thickness (or lack thereof) of each individual strand.

So, think about it this way: If your hair is thinning, you're dealing with less hair overall. If your hair is fine, each strand is just super skinny. Arming yourself with this knowledge can make a huge difference while choosing haircuts for men and how to style thin hair. So, guys, if you're battling thin hair, there are men's hairstyles for thin hair that can give you that extra volume to your hair. You may just need a haircut for thin hair and a product like a volumizing pre-styler to tip the scales in your favour. With the right tweaks, even thin hair can be transformed into the best hairstyles we all crave!
How to Style Thin Hair for Men
First up, rocking thin hair is all about nailing the right cut. It's all good if your hair is thin – many men battle with this. The key is to keep your hair shorter on the sides while leaving some length on top. This illusion of thicker hair can totally transform your look. Not to mention, shorter sides are a major player in some of the best hairstyles for men. Also, keep hair trimmed every few weeks because overgrown hair can also expose thin areas, zapping your confidence.

Now, let's talk products. Ditch your old hair gel – it's doing you no favours brother. What you need is a lightweight hair putty. A gloopy gel will just weigh down thinner hair, making it look more sparse. But a lightweight putty, my dude, it'll give your hair some life, creating structure and fullness without the unnecessary heaviness. When styling, remember this golden rule – hot air is your friend. Paired with the right haircut for men with thinning, it can make a world of difference. So let's embrace thin hair together and get styling!
Start with the Haircut
Many guys with thin hair often wonder what kind of hairstyle for men would best suit them. But the secret is to keep things simple. Washing your hair with a volumizing product can create a good base, make hair look fuller, healthier, and in turn, more luscious. In the men's grooming world, it's all about understanding the texture and fall of your hair, and choosing a haircut that won't highlight your thinning hair. You'd be surprised at how the right cut can help your hair appear thicker and fuller.

Remember, thinning hair isn't the end of the world! There are plenty of men's hairstyles that can divert attention away from thinning hair. In the age of grooming consciousness, various men's hairstyles for thin hair have evolved to help guys look their best. Men's hairstyles for thin hair are not just about vanity anymore, but instead have become an essential part of maintaining a positive self-image. So, it all begins with the right haircut, selected strategically as per your unique hair characteristics.
Rethink Your Shampoo
Take a moment to think about it – thinning hair doesn't mean you're destined for a life of dull hairstyles. There's a whole world of chic hairstyles for thin hair men out there, just waiting to be explored. Notice how men with thinning hair often carry their hair with a unique class, right? It all begins with reevaluating your shampoo. Just like you change your wardrobe with changing weather, your hair routine also needs a change.

Often gentlemen with voluminous manes worry about keeping much hair together, but longer hair gives an illusion of a full head of hair. It is crucial to maintain the right products that don't weigh your hair down but keep the hair together. Consider using shampoos fortified with vitamins and hair-building fibers. These not only make your hair look fuller but also help to prevent hair loss. So, give your thinning locks some love and watch them transform!
Add a Volumizing Pre-Styler
When it comes to thinning hair, men will experience a lack of volume and density, making it challenging to achieve the desired hairdo. A smart move in hair care for thin or fine hair is to simply add a volumizing pre-styler into your daily grooming regime. These powerful products for thinning hair work by creating a thicker appearance, imparting volume while avoiding the risk of clumping the hair together. All thanks to their unique formulation designed to get between your hair strands and create that much-needed space!

It's a notion as old as hair care products that washing your hair too often can leave it dry and dull—especially for those with thin hair. However, applying a volumizing pre-styler post-wash can reverse the effects, enrich the hair, and aid in styling.
Here's a tip for the men with thin hair: Applying the pre-styler to damp hair every day.
This method ensures the product is evenly distributed and works effectively. Remember, it's not just about what you put in your hair but also how you apply it when it comes to thinning hair.

• Consider the Type of Pre-Styler. There are numerous types of volumizing pre-stylers available in the market. Some come as sprays, others as creams or lotions. Each type has its own unique advantages and is suitable for different hair textures and lengths.

• Pay Attention to Ingredients. Look out for ingredients like Panthenol and Biotin, which are known for their ability to add volume to thinning hair. Avoid products with harsh chemicals that may cause damage or dryness.

• Application Technique Matters. When applying your pre-styler, start from the roots and work your way towards the tips. This ensures even distribution throughout your hair strands.

• Don't Overdo It. Using too much product can weigh down your hair instead of adding volume. Always start with a small amount and gradually increase if necessary.

• Pair with Other Volumizing Products. For maximum effect, consider using other volumizing products such as shampoos, conditioners, or post-styling sprays along with your pre-styler.

• Be Consistent. Regular use of a volumizing pre-styler can lead to noticeable improvements over time. Make it an integral part of your daily grooming routine.

So guys! Don't let thinning hair bring you down anymore! With these simple steps and a good volumizing pre-styler at hand, you're all set to sport fuller-looking locks every day!
Pick Up a Lightweight Hair Putty
Rolling with lightweight hair putty can be a game-changer for dudes whose hair is naturally fine. This hair product plays a vital role in hair management by adding volume and texture, hence driving attention away from thinning hair. With it in your grooming arsenal, you get the flexibility to wear your hair in different ways that compliment your style and features, while boosting the thickness of your hair. Friendly tip; after applying the putty, style sections of your hair in the opposite direction of their natural hair texture. This trick gives a fullness illusion!

Another avenue to explore is opting for the best haircuts for thin hair – those that remove excess weight from your hair to make it appear fuller and thicker. If your hair is cut clipper-short on the sides, for instance, there's a visual illusion of more hair on top. Likewise, for those dealing with a receding hairline and thinning top, a textured cut can be one of the best hairstyles to consider. It reduces the prominence of thinning areas by adding texture and layering which in turn, enhances the overall hair density.
Hot Air Is Your Friend
For dudes with thin hair, confrontation with a blow dryer might seem intimidating. But let me tell you, cranking up some heat can really work wonders for your style. If you're wondering how to style thin hair, this sassy tool is about to become your best friend. It's all about how you use it. Firstly, blast some warm air right into the roots to gift your hair some much-needed volume. Aim the flow of air upwards for that extra lift.

Now, let's talk about hairstyles for thin hair. Why not go for a haircut that's short on the sides? This timeless style creates a balanced look, making the top of your hair visually denser. If you're a fan of dry shampoo, it can work magic by taking some of the weight off from fine hair while bringing in texture. Sometimes, the right hairspray can also make a world of difference. It's all about experimenting till you find what suits you. Remember, it's not just about how your hair looks but also how you feel in it. So, embrace those strands, whether thin or fine, and rock that style!
Tips For Men With Thin Hair
Alright guys, let's talk about making that thinner hair look its absolute best. First thing, it's all about the haircut. Discovering the right mens hairstyles for thin hair can drastically change how your locks look and feel. This step is crucial in the journey to make the hair for men a bit more voluminous. Trust your stylist – they can suggest styles that create the illusion of thickness and texture. Whether it's a cool fade, undercut or a tousled top, the right haircut can give an immediate, noticeable boost.

Now, on to product use. Here's one of the golden tips for men with thin hair. Rethink your shampoo! Not all men's shampoos are created equal and the one you're using might be weighing your hair down. Opt for volumizing shampoos that are lighter, yet provide the much-needed lift. And hey, pre-stylers and lightweight hair putty aren't to be overlooked. These tools can really help your hair to make it appear thicker and fuller. Just remember, go easy on them – heavy application can create a flat, disconnected look.