Different Types of Men's Haircuts in 2023
Welcome to the ultimate guide on men's haircuts and hairstyles for 2023. Whether you're looking for a fresh new cut or want to learn more about different haircut names for men, this guide has you covered.
I'll walk you through the hottest men's hairstyles and types of haircuts hitting barbershops this year. You'll discover everything from short sides to fades, buzz cuts, and even longer styles.
Let's dive in and explore the best haircuts and hairstyles for men in 2023!
Why Choosing the Right Haircut Matters
Your haircut says a lot about your style and personality. The right style can make you look sharper, feel more confident, and even help you level up professionally. That's why it's so important to choose a cut that flatters your face shape and hair type.
Some of the most popular hairstyles and cuts this year include fades, textured tops, messy styles, and short sides. But the specific haircut you choose should be based on:
Your hair type – thick, thin, wavy, curly, etc.
Face shape – oval, round, square, etc.
Personal style – professional, edgy, trendy, etc.
Keep reading to discover the most popular haircuts for men this year and tips for choosing the best one for you.
Top Men's Haircut Styles for 2023
The Fade
Fade haircuts are still going strong in 2023. This cut features hair that gradually "fades" from the top of the head down to the neck and sides. Fades are super versatile – you can get a high, mid, or low fade to suit your style.
The high fade haircut has contrast on the sides that starts high near the temples and goes down to the skin. This creates a bold, eye-catching look.
A low fade haircut provides a more subtle look, with less contrast between the longer hair on top and the faded sides. This haircut works for both casual and professional settings.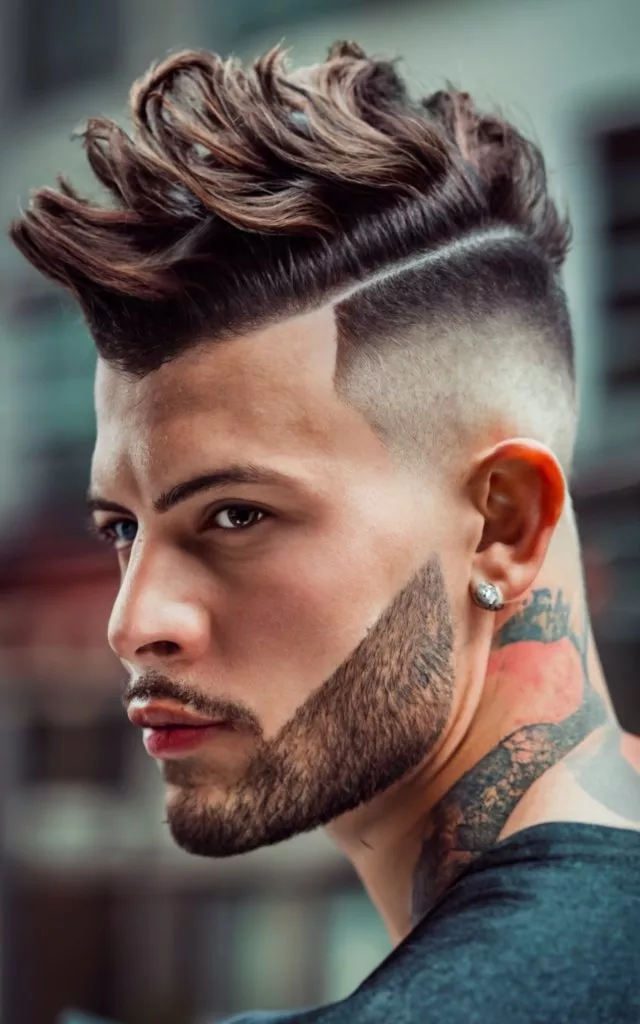 Other popular types of fade haircuts include:
Taper fade – A gradual fade that is shorter in steps down the head.
Bald fade – Hair is faded completely down to the skin.
Temp fade – Hair is faded for only an inch or two.
The Undercut
The undercut haircut features short hair on the sides and back with longer hair on top. This creates a nice contrast for a bold, edgy style.
With an undercut, the top hair can be styled in different ways – slicked back, textured, spiky, etc. It offers versatility for guys who want a stylish modern cut.
The Pompadour Haircut
The pompadour is a classic, elegant hairstyle that continues to be one of the most popular haircuts for men who want a stylish look. This haircut features short sides and back combined with longer hair on top that is swept up and backwards. Many men opt for the pompadour because it is a hairstyle that is versatile enough to wear both formally and casually. It can be worn slicked back smoothly or styled with texture for a more relaxed vibe. The pompadour haircut gets its name from Madame de Pompadour, a famous noblewoman in the 1700s who popularized the hairstyle. This timeless cut will likely remain one of the top choices for men of all ages looking for a polished yet eye-catching hairstyle.
The Quiff
Similar to the pompadour, the quiff showcases longer hair on top that is swept upwards and backwards. But it's slightly less voluminous than the pompadour. The quiff looks great when the top hair has texture and volume. Keep the sides short with a fade or undercut. This style can work for casual, business, and formal occasions.
The Slick Back
Slicked back hair remains a go-to hairstyle for men wanting a polished, sophisticated look. It involves combing your hair back away from the face and holding it there with product.
This style works well for men with straight, thick hair. Keep hair closely cropped on the sides and longer on top. Use pomade or wax to slick the top hair backwards.
The Buzz Cut
The buzz cut remains a hot trend in 2023 thanks to its masculine, no-fuss style. It's super easy to maintain – just use clippers with a guard to buzz your hair down to a short, even length.
Buzz cuts are great for guys with very short hair. This low-maintenance cut works for all hair types and face shapes.
The Crew Cut
A crew cut is a classic short style featuring hair that's clipped short on top, about an inch long, with the sides and back tapered even shorter.
This clean-cut style has a retro vibe. It's a bit longer than a buzz cut but still very easy to style. Just run some product through the short hair on top or style it forward.
The French Crop
The French crop puts a modern spin on classic short men's hairstyles like the Caesar cut. Hair is cropped close on the sides and back, with just around 2 inches of length left on top.
The top hair is then styled forward into a short fringe. This style looks great with some texture and messiness styled in.
Military Fade Haircuts
The military fade is a classic men's haircut that continues to be a popular choice. This short haircut features very short hair on the back and sides that fades up gradually to longer hair on top. It is quite similar to a high and tight haircut yet leaves a bit more length on top. One of the key features of this fade haircut is the clean lines and sharp edges it creates. It gives off a masculine, military vibe. The military fade works well for men who want a no-fuss hairstyle that is easy to maintain. It can be styled many ways, from a side part to brushed upwards. This fade haircut is a go-to choice for men around the world wanting a fresh yet classic short cut.
Undercut Hairstyles
The undercut is a haircut style that has surged in popularity in recent years. What sets the undercut apart is the sharp contrast between the very short back and sides and the longer hair on top. There are many different types of undercuts, from sleek to messy. An undercut with a fade on the sides and slicked back top is a classic men's hairstyle. Meanwhile, an undercut with curly hair on top styled natural embraces a more modern look. The undercut is quite versatile, allowing men to style the top hair however they want – from spiky to swept over. This edgy cut works for men who want a bold, eye-catching hairstyle with ample styling options. It continues to be one of the top haircut choices for younger men wanting a trendy cut.
Choosing the Right Haircut for You
Now that you know some of the most popular hairstyles for 2023, it's time to choose the right cut for you.
Here are some tips for choosing a haircut that flatters your face, hair type, and personal style:
Consider your face shape – Oval faces can pull off almost anything. Round faces look best with volume on top and shorter sides. Square and heart shaped faces need some height on top.
Play up your hair type – Work with your hair texture rather than against it. Curly hair looks great a little longer on top. Thin hair needs short sides and textured top.
Choose your style – Undercuts, fades, and slicked looks are edgy and trendy. Crew cuts and buzz cuts are low maintenance. Pompadours are classic and polished.
Find a stylist you trust – A talented barber or stylist will help you select the right cut for your look and will cut it to perfection.
Maintenance is key – Get regular trims, style it properly, and use products like pomade, wax, or paste to keep your cut looking fresh.
Now that you know how to choose the right style, let's look at some of the best haircuts for men with specific hair types and face shapes.
Haircuts for Different Hair Types
Thick Hair
If you have thick, coarse hair, short sides and longer length on top helps thin out your locks.
Recommended cuts:
Pompadours
Faux hawks
Quiffs
Slicked back undercuts
Textured crops
Use a matte product like pomade or wax to style the top hair up and back. Stay away from heavy oils or greasy products that will weigh down thick hair.
Thin Hair
Gents with fine or thin hair need cuts that create the illusion of volume and fullness.
Recommended cuts:
Crew cuts
Caesar cuts
Short textured styles
Spiky hair
Use volumizing shampoo/conditioner and texturizing products like sea salt spray or mousse. Avoid super short cuts that can accentuate thin hair.
Curly Hair
Guys with naturally curly locks need haircuts that complement their texture.
Recommended cuts:
Fades – high, mid, or low
Textured top styles
Shorter sides and back
Angled fringe styles
Use anti-frizz creams or oils to enhance curls and fight frizz. Avoid heavy products that will weigh down curly hair.
Wavy Hair
Wavy hair types should opt for cuts that take advantage of their natural texture.
Recommended cuts:
Pompadours
Quiffs
Textured crops
Slicked parts or side parts
Medium-short layers
Style with sea salt spray to enhance waves or use a light pomade or wax to style. Avoid heavy gels or other products that can make waves look overstyled.
Haircuts for Face Shapes
Oval Face
Guys with oval faces can pull off nearly any style or length. Go for what you like!
Some great oval face choices include:
Faux hawks
Quiffs
Pompadours
Buzz cuts
Fades
Textured styles
Round Face
Round faced men need cuts with height on top that add length to balance facial width.
Recommended cuts:
Short pompadours
Spiky hair
Faux hawks
Quiffs
Crops with texture
Short sides
Square Face
Square faced guys need height at the top with shorter sides. This adds length to offset the angular jaw.
Great options include:
Pompadours
Quiffs
Slicked parts or side parts
Spiky hair
Faux hawks
Textured crops
Heart/Triangle Face
Heart shaped faces look best with volume at the top and temples to offset a wide forehead.
Cuts that work include:
Full pompadours
Side parts
Forward fringes/bangs
Texture crops
Quiffs
High fades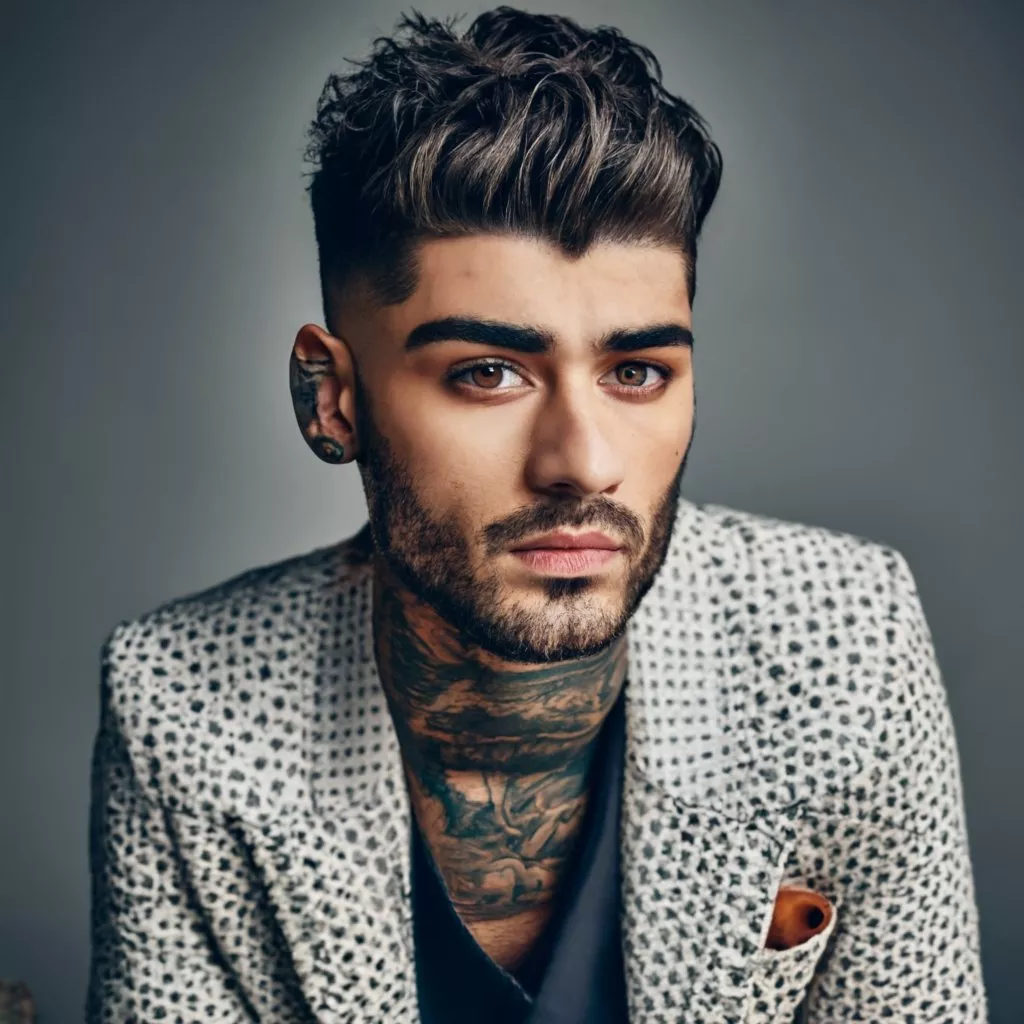 Short Haircuts for Men
Now let's look at some of the most popular short haircuts for men this year.
Crew Cut
The crew cut features hair clipped short on top, about an inch long, with sides and back tapered shorter. This style has a retro vibe and works well with straight hair.
Caesar Cut
A Caesar cut has hair cropped to around 2 inches long all over. The top hair can then be styled forward into short bangs across the forehead.
French Crop
For this style, hair on the top is kept around 2 inches long and styled into a short fringe that is swept forward. Sides and back are kept trimmed close.
Medium Length Cuts for Men
Medium length hair offers guys more versatility in styling. Here are some ideas:
Textured Crop
A medium textured crop features hair long enough to style with a rough, tousled texture. Use products like wax, pomade, or paste to create a perfectly imperfect look.
Side Part
Side parts remain popular for medium length hair. Comb hair neatly over to one side. Keep the part line crisp and defined.
Ivy League
An Ivy League cut has hair on top long enough to style upright or messy. The sides and back are tapered short to medium length.
Long Hairstyles for Men
Some guys prefer longer locks. If that's you, consider these hairstyles:
The Flow/Surfer Style
This longer style features hair that flows over the ears and down to the neckline. Looks great layered and textured for a casual, beachy vibe.
Man Bun
A man bun pulls long hair atop the head into a messy knot or bun. Keep hair trimmed shorter on the sides. This style is edgy yet practical for keeping hair back.
Messy Top Knot
Similar to the man bun, a messy top knot styles long hair into a slightly looser bun or knot near the crown. Looks stylish yet relaxed.
Fade Haircuts for Men
Fade haircuts aren't going anywhere in 2023. Here are some different types of fades to consider:
Low Fade – A gradual fade with little contrast between the long hair on top and sides.
Mid Fade – Fade starts lower at the temples and extends to about halfway down the head.
High Fade – A bold fade with high contrast, starting very high near the temples and hairline.
Bald/Skin Fade – Hair goes from long on top to completely bald at the bottom of the sides and neck.
Drop Fade – Hair is faded diagonally down and back behind the ear.
Taper Fade – A gradual fade with steps between lengths rather than a smooth blend.
Fades can be added to any men's hairstyle – short, long, curly, straight, etc. They create a nice contrast for a stylish, clean-cut look.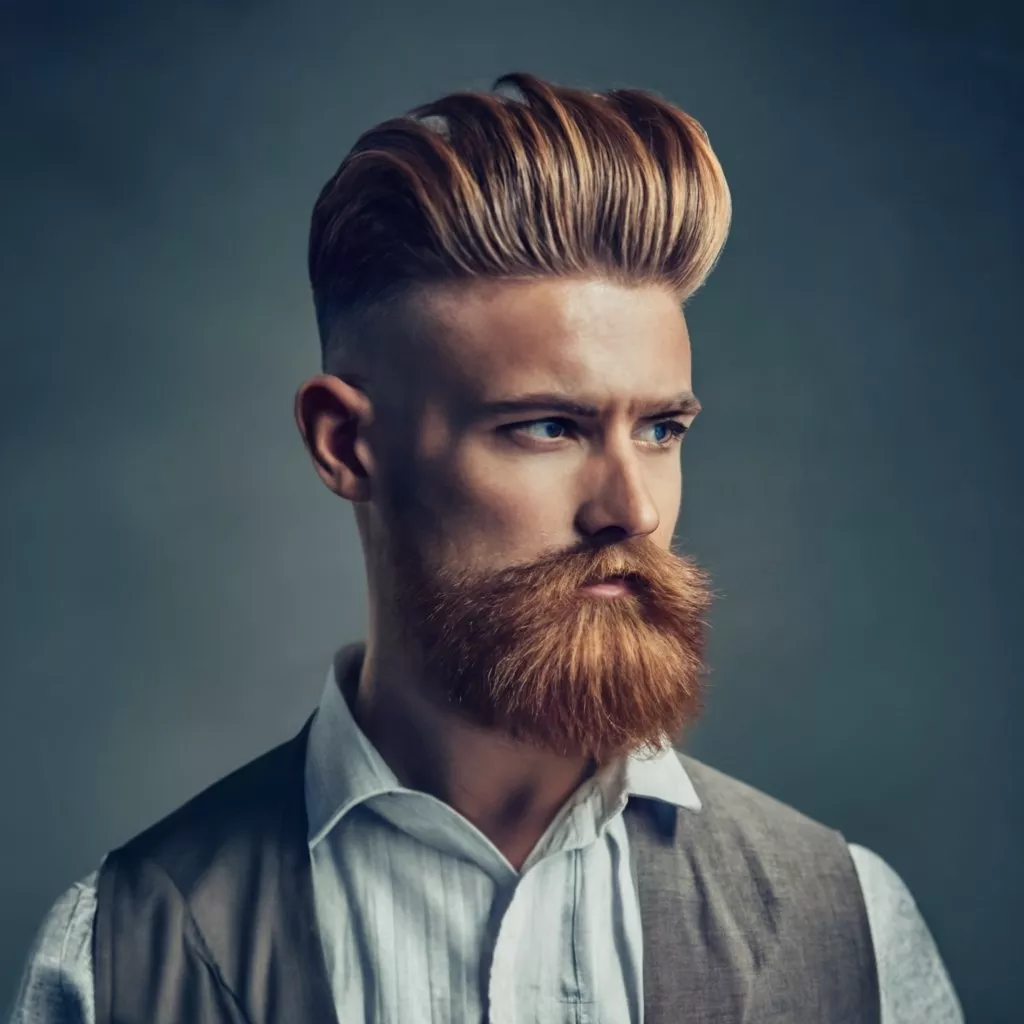 Conclusion
As you can see, men are spoiled for choice when it comes to trendy haircuts for 2023. Whether you want short sides, a fade, a textured top, length and flow, or a classic polished style, there are so many options to experiment with.
The right haircut can enhance your best features, balance your face shape, and boost your confidence. Now that you know how to pick a cut and style for your hair type and texture, it's time to find a talented barber and get your new haircut!